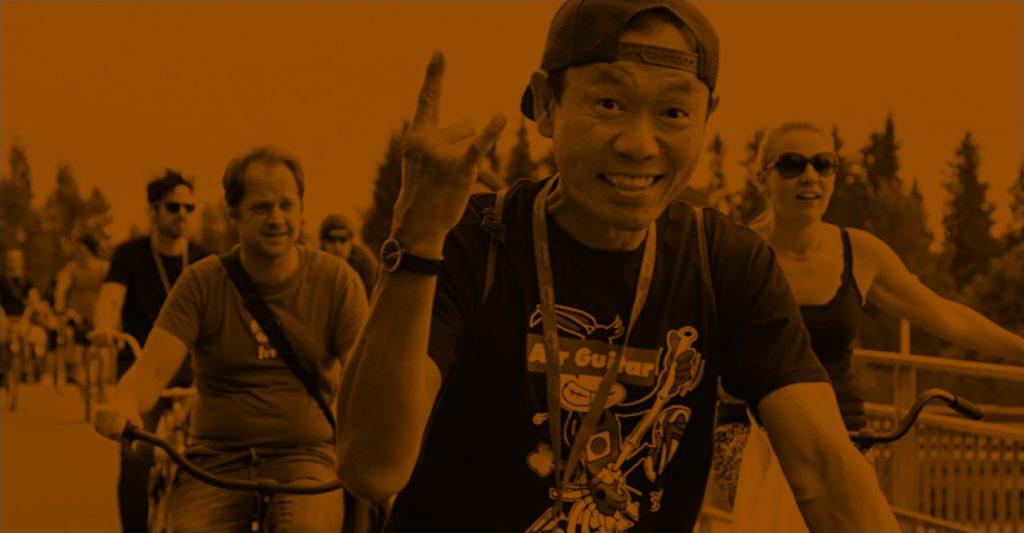 Airientation
Air Guitar World Championships
21.-23.8.2024 Oulu, Finland
August 23, 2023
Airientation is a happy reunion of the Air Guitar family, the best chance to meet old and new air guitar community members and the best way to start the Air Guitar World Championships week! Newbies, random visitors and local Oulu-people are all welcome.
Tickets for the Airientation day are now on sale! Just scroll down this page.
Timetable 2023
August 23: Airientation
August 24: Dark Horses Qualification
August 25: The World Final
Spend the day with air guitarists!
Between 12-14 you can attend air guitar workshops hosted by Justin "Nordic Tubder" Howard, Lloyd "Stonehenge" Weema, Nicole "Little Old Me" Sevcik and Vincent "Lord Scrat" Roussel!
The workshops are at 12-12.45 and 13-13.45. You can attend one or two workshops.
The workshops are held in the Re:formi house in Pikisaari. The house is an old school deemed to be desctructed, but until demolition it has been filled with art and installations by local and international artists. You'll have time to look at the art between and after the workshops.
After the workshops, if the weather permits, we'll walk the Pikinen Polku art route. Then at 14.30 we'll go to Mallassauna for a Drink&Draw event. Buy a beverage and join the Drink&Draw where you'll pair up with an air guitarist to make portrait! No drawing experience or skills needed as you will be guided and creativity is encouraged!
Airientation day ticket costs 15 €.
Sign up by Tuesday 22nd of August.
"*" indicates required fields