Air Guitar World Championships
23.–25.8.2023 Oulu, Finland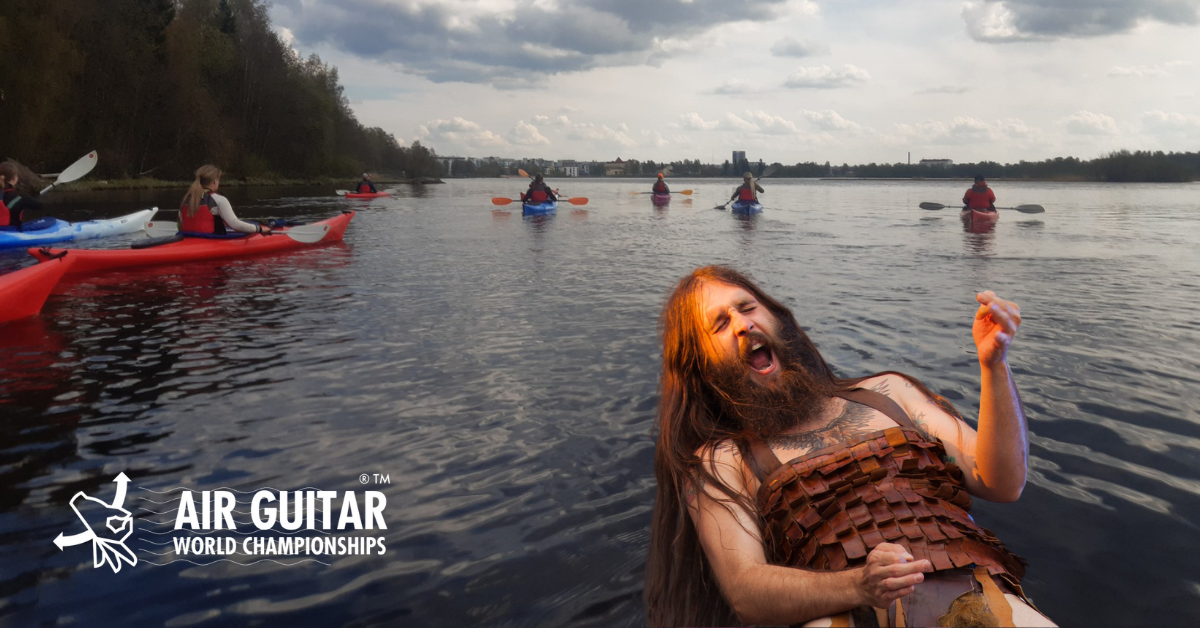 Airientation is a happy reunion of the Air Guitar family, the best chance to meet old and new air guitar community members and the best way to start the Air Guitar World Championships week!
In addition to a laid-back sauna evening, Airientation will this year offer a kayaking/fatbike trip in the Oulujoki river delta. Along the way, you will also get to dive into the roots of Karelian culture through folk musician Emmi Kuittinen's lament singing performance in the nature. Maybe you can even get some new ideas for your own performance!
The three-hour trip starts from Linnansaari, goes around the islands and returns back to the starting point. You can choose whether you want to go kayaking or fat biking. The host of the afternoon, Justin "Nordic Thunder" Howard, will make sure that the atmosphere stays Airy!
You can also take part only in the sauna evening and take a walking tour around Oulu in the afternoon and see the lament singing performance (there will be an AGWC staff member walking with this group).
Schedule
2:00 pm EEST kayaking/fatbike/walking tour
5:00 pm EEST meal break (own expense)
6:30 pm EEST transport to Toppila for the sauna evening (please take your own towel)
11:30 pm EEST transport back to Oulu city center
The whole package: €50
incl. kayaking/biking trip + guide, singing performance, transportation from Oulu city center to Toppila and back, sauna evening with snacks
Singing performance + sauna evening: €25
incl. the performance, transportation from Oulu city center to Toppila and back, sauna evening with snacks
Book your spot soon because places are limited.
Competitors: a separate link will be sent to you by email, so please don't buy your ticket here.
Airientation day is for the contestants and the international Air Guitar family, but everyone who wants can participate in the air guitar kayaking in the afternoon. Tickets just for the kayak trip can be bought at this link. 
Timetable 2023
August 23: Airientation
August 24: Dark Horses Qualification
August 25: The World Final
Newsletter
Receive first-hand knowledge of what is hot by joining our mailing list!
You can unsubscribe at any time by clicking the link in the footer of our emails. For information about our privacy practices, please visit our website.